OK, you ask, how can I avoid the frightful consequences of dementia lacunae suprasternalis?

Women:
Wear turtleneck garments at all times.
Men:
Do not look at a woman's suprasternal notch. Avert your eyes. If this is awkward, look at her nostrils. Don't look into her eyes, either; this is almost as perilous as looking at the notch.
If you find yourself becoming notch-whipped, think about a dry and utterly uninteresting subject, like the Internal Revenue Code or Maya Angelou's poetry.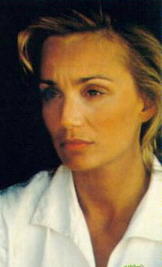 Actress Kristin Scott Thomas, with suprasternal notch displayed to advantage. In her rôle as Katharine Clifton in The English Patient, she notch-whipped Count Laszlo de Almásy (Ralph Fiennes) and caused his downfall. Was this the suprasternal notch that launched a thousand ships, and burnt the lofty towers of Illium?